It's Official, Mykonos has Launched!
We at Privadia are extremely excited to officially announce the launch of our latest destination; Mykonos! As we expand outside of the Balearic Islands for the very first time, we believe we could not have selected a more suitable destination to complement our existing portfolio. 
It's common knowledge that travelers who regularly visit Ibiza also frequent Mykonos too, so putting the fact that the island already has a huge demand, and that the luxury villas situated there are equally as stunning as they are on the white isle, this is an obvious next step for Privadia. 
Mykonos is one of the most famous Greek Islands, situated in the Cycladic region of the beautiful Aegean Sea, and offers something for all your clients. Many call Mykonos the 'Ibiza of Greece', partying until the early morning hours in famous clubs with worldwide known DJs and rubbing shoulders with celebrities. However, Mykonos offers so much more than its nightlife. Dazzling beaches, picturesque villages, gorgeous Greek food and elegant lifestyle is just some of what the island has to offer. 
Privadia's continued growth
Despite 2020 bringing a whole range of challenges to the travel industries doorstep, we were determined to ensure that our expansion plans still went ahead, so we're extra proud and excited to be announcing todays launch. 
Also, launching into Mykonos is a significant step for Privadia as this is our first destination outside of the Balearic Islands. Understanding the local legislation, culture and best business practice hasn't come overnight, and in order for us to mirror the exact same service offered as part of our Ibiza, Mallorca and Formentera properties, this has been a key focus for our entire team. Getting this right as a first move outside of Spain is paramount and has also paved the way for our next destination, which we can't wait to announce soon! 
As of today, Privadia Travel Partners will have access to a carefully curated portfolio of 30 initial luxury villas. This will then be followed by a further 30 properties that are currently in the process of being carefully vetted and will be available soon. 
This initial portfolio is currently spread across various locations within Mykonos, including Mykonos Town, Ftelia, Kanalia, Agios Lazaros and many more! Below you will find a little more insight into some of the island's key resorts, accompanied with close by properties. 
If your clients are going to Mykonos, they will definitely focus most of their nights in Chora. Whether it's quaint windmills, historical mansions or art galleries, Mykonos old town is bursting with culture and has something for all clients. Some of the most famous sights in Mykonos Chora include the charming Little Venice, Manto Square, the iconic 16th-century windmills Kato Mili and Paraportiani Church built in 1475.
Little Venice is a picturesque neighborhood filled with 18th-century Greek fishing houses that are situated on the edge of the sea. Close by are five of the 16 historical windmills which are considered one of the most famous monuments of the Cyclades islands.
Check out the following properties all now listed with Privadia and are all situated in and around Mykonos' Chora.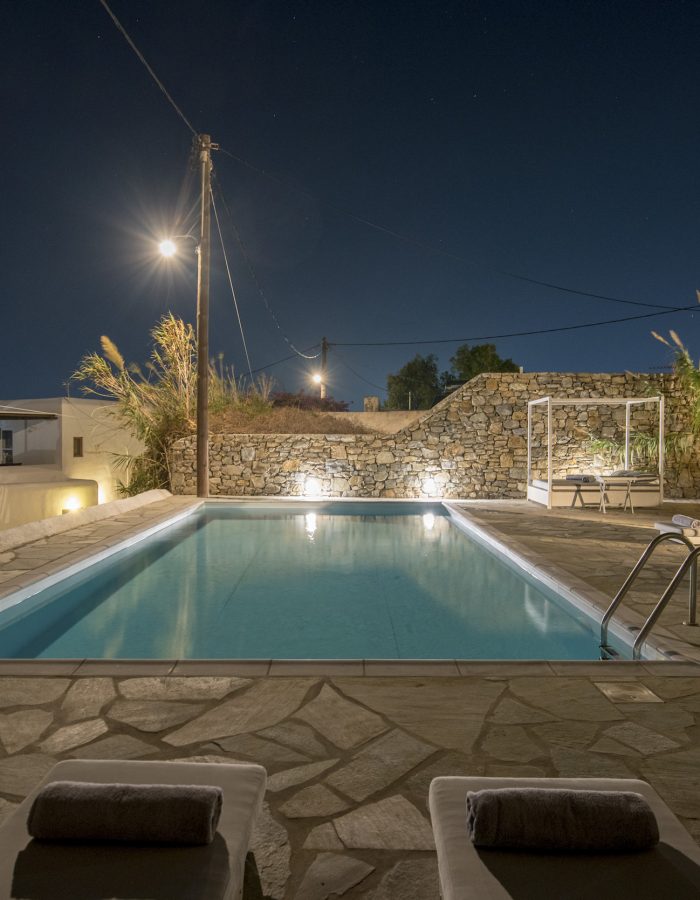 Traditional property with modern finishing in the heart of Mykonos.
Tourist License No. 1153936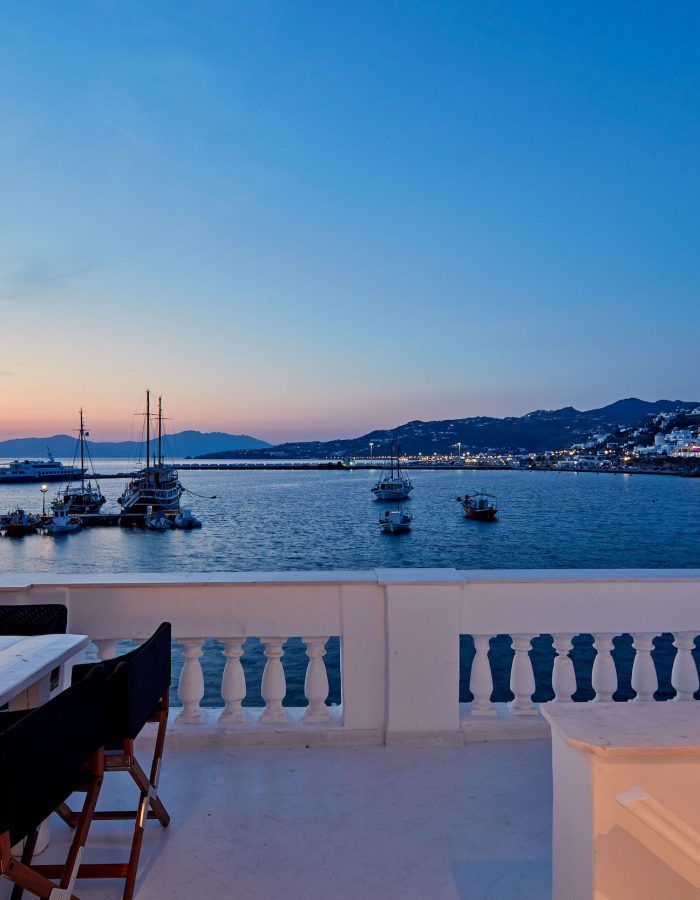 Historic property in the heart of Mykonos Town.
Tourist License No. 1173K10001027501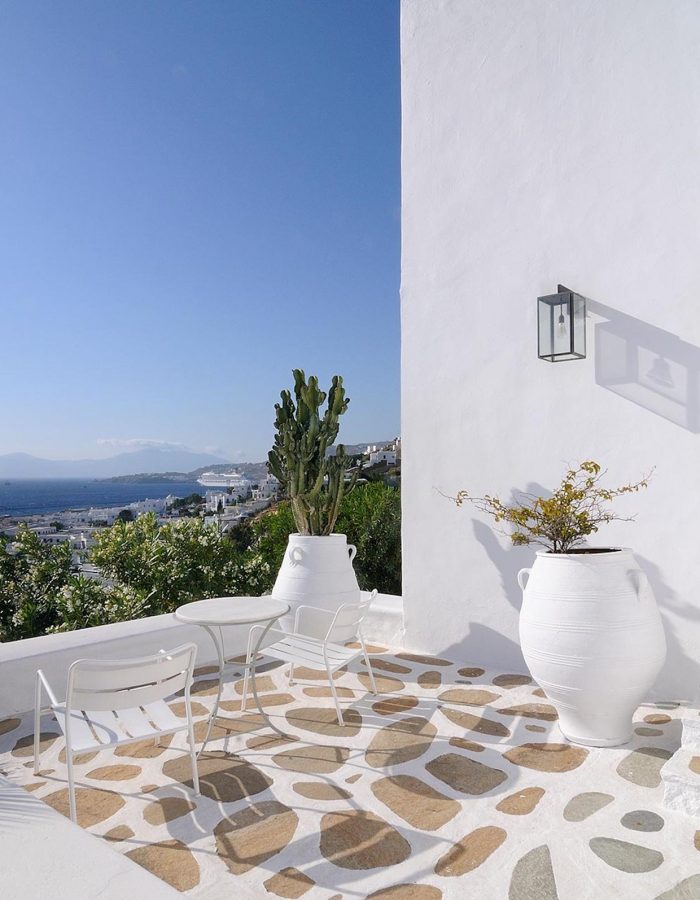 A modern and minimal design – made to entertain.
Tourist License No. Available on request
Ftelia, situated on the north of the island is certainly one of Mykonos's hidden gems. If your clients prefer quieter places, Ftelia beach is far less crowded with a stunning view, white sand and crystal clear waters. The Bay there is also famous for drawing in huge numbers of windsurfers every year due to the winds coming from the north. The tucked-away Ftelia Restaurant overlooks the whole of Ftelia Bay and serves a variety of fresh Mediterranean cuisine. 
Local tip: Ano Mera (a five-minute drive from Ftelia) is a charming village which boasts of shops, boutiques and jewelers.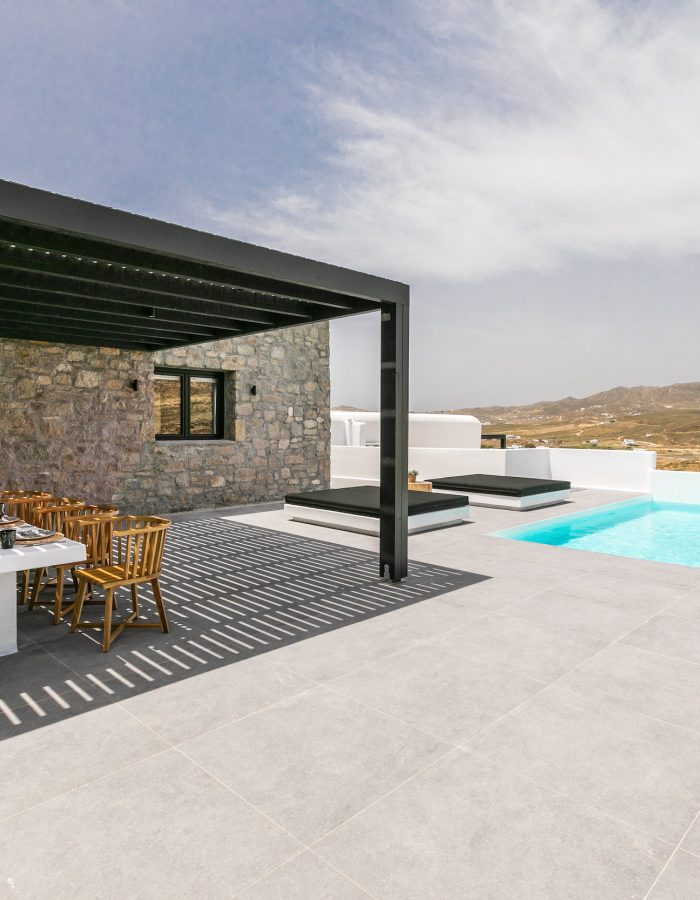 Located near the famous Alemagou beach bar, this property offers uninterrupted views of beautiful Ftelia beach.
Tourist License No. Available on request
The beautiful Agios Lazaros is the most sought-after corner of the island. Sitting in the Southwest, it is protected from the Northern winds. With a gradual slope, many of our listed homes enjoy stellar sunset views and all have a convenient proximity to town. It is directly situated between the famous bays of Ornos and Psarrou. It also boasts a variety of hot tourist spots bustling with hotels and luxurious summer houses. In summary, Agios Lazaros is a calm and relaxing part of the island!
Check out a small handful of fully vetted properties below which are located in Agios Lazaros.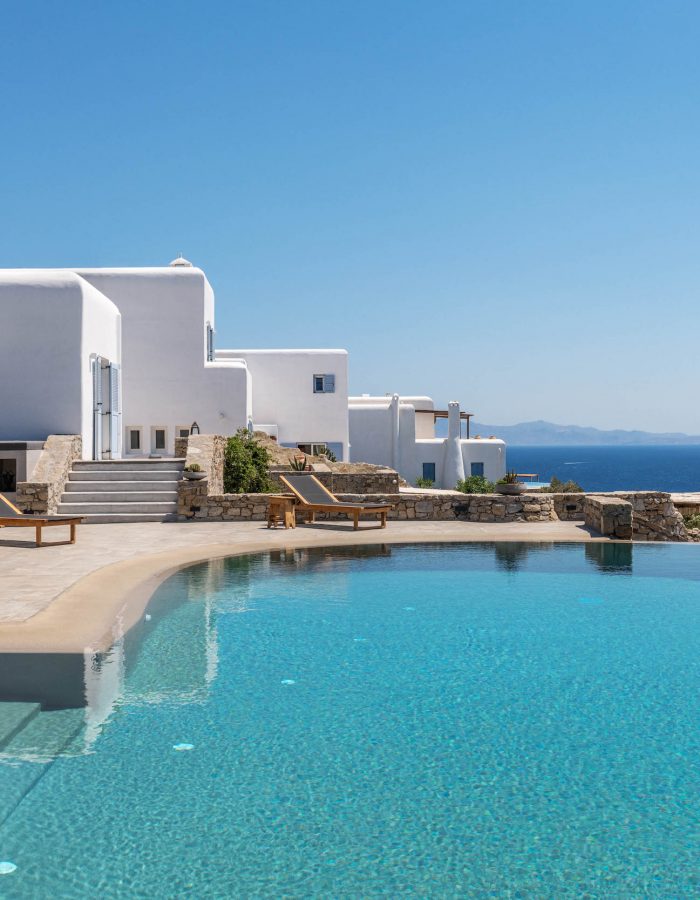 Impressive and lavish villa situated on the ridge in the exclusive Agios Lazaros area, offering panoramic sea views from sunrise to sunset.
Tourist License No. Available on request
Kanalia offers a unique vantage point, facing Mykonos Town and its Windmill. Without compromising proximity to town and Southern beaches, Kanalia has an excellent collection of private homes to enjoy. Your clients can explore the nearby Ornos Bay, we recommend a walk down along the waterfront and to enjoy its delightful beach bars – Pasaji & Kuzina. If your clients are looking for a more relaxing day, advise them to head on over to Ornos beach and enjoy the restaurants they have to offer.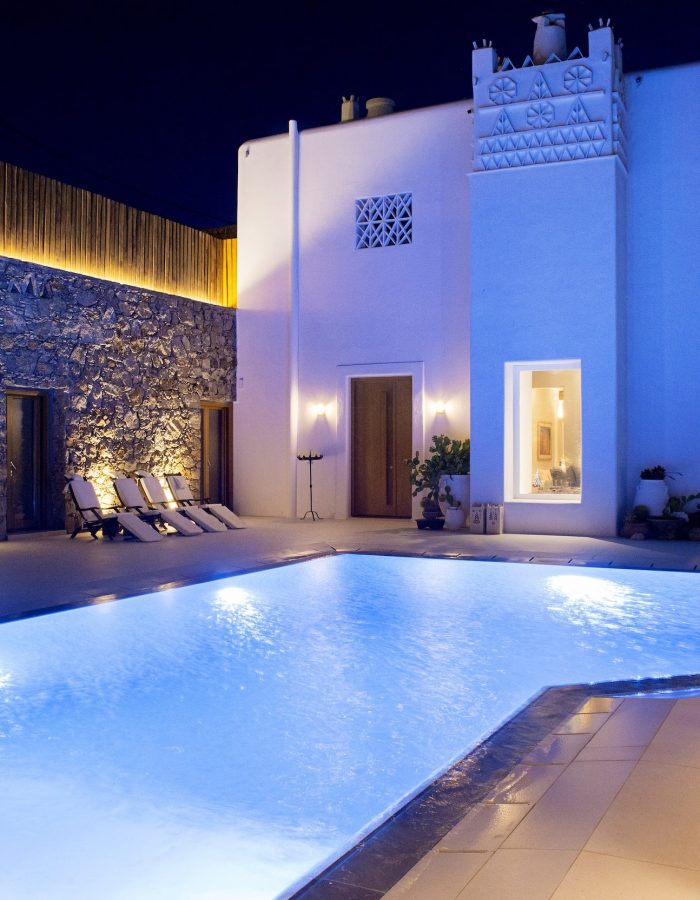 Stylish property, with one of the best sunset views you can find!
Tourist License No. Available on request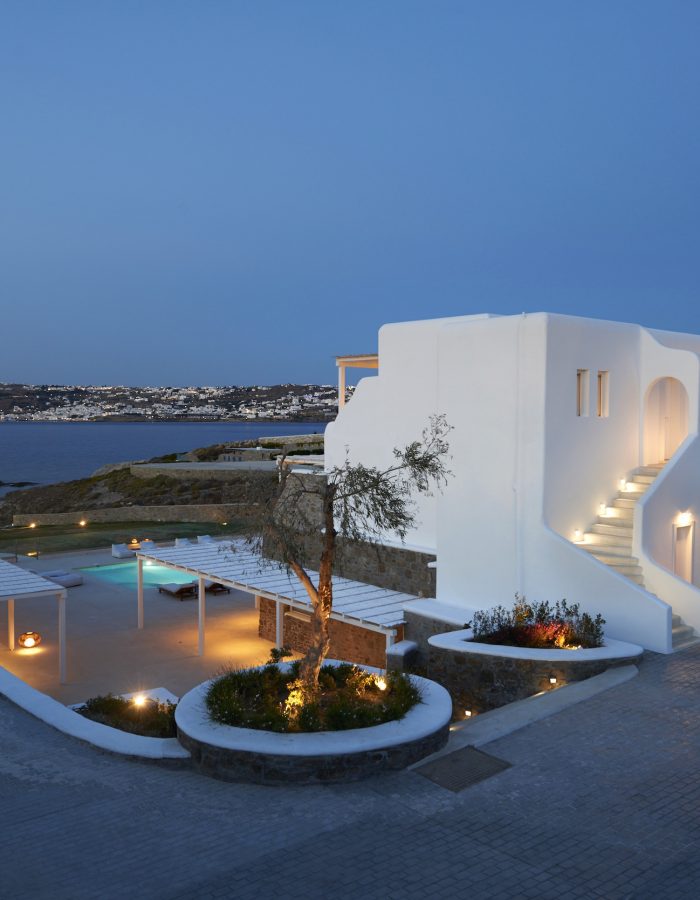 A gorgeous home with private beachfront.
Tourist License No. Available on request
Privadia is one of the leading suppliers of high-end luxury villas in the Balearics & Mykonos, providing over 280 fully licensed and pre-inspected villas across the islands. As a business to business-focused service, we supply some of the largest luxury travel brands in the world.
If you are an OTA, a travel advisor or a boutique concierge service and are interested in working with Privadia please click here to find out more. 
Existing Travel Partners
If you're already an approved Privadia Travel Partner, please contact your direct account manager for more information on Mykonos, and how to gain access to the property listings. We will have you up and running in a matter of days.
Those familiar with Privadia's booking process will receive the same high-quality professional service offered with our other destinations. Simply contact your dedicated Privadia account manager with your enquiries and they will provide you with a tailored list of options. In addition to this, the usual concierge services ranging from car hire to private chefs will also be offered across Mykonos too with our trusted network of suppliers offering a full 360 service. 
The commission structure is also exactly the same offering a minimum of 10% commission across our full portfolio. It is also worth noting that you will be able to search properties in exactly the same convenient and simple way. 
For more information on Privadia and our expansion plans please email us at info@privadia.com.