If you're already signed up as a Privadia Agency Partner you may have noticed some changes to various parts of our services over the last few weeks…
As mentioned in our 2018 Round-Up blog, we have been busy with some major updates to our systems and in addition to a number of general tweaks and enhancements – some of which are outlined below – please read on to find out more about our new online property brochures and our improved method for providing property options to your clients.
Design Updates
Our in-house design team have been busy making many changes to the look and feel of our platform, giving it a shiny new look for 2019. As beautiful as these changes are, they are all very much focused on usability and making sure you can find the options you need as efficiently as possible on any device or browser.
Changes include;
An overhaul of the layout and design of the dashboard navigation and search page.  These changes allow for much more efficient use of screen space so that more results can be seen at once. We've also improved the filtering options to allow you to carry out more accurate searches, faster than ever. See these changes here.
We've updated the design of our property cards, giving you access to more details quicker, and generally improving the overall look of each property snapshot. It's now easier to see the property rates and also when the availability was last updated. In addition, you can now scroll through the gallery without having to view the full profile of the property.
Your commissions are now built into the price
All the rates displayed across our system now include your agreed commissions. This is also the same when your account manager replies to an open client enquiry, say via email, with options for your client. Gone are the days of going through the prices with your calculator –   this is now all fully automated and done for you. Just for total clarity on this, all options now include your commission and are ready to send directly to your client.
Online Property Brochures
We are very excited to announce the launch of our new and updated online property brochures. Previously in PDF format, the new brochures come as un-branded web pages.
The new web pages have brought the presentation of our properties up to modern standards, built using the latest technology, fully responsive design and interactive maps. Updating the property information is now done in real-time meaning even more accurate information for your clients.
Check out an example of our online brochures here.
Property Options Web Pages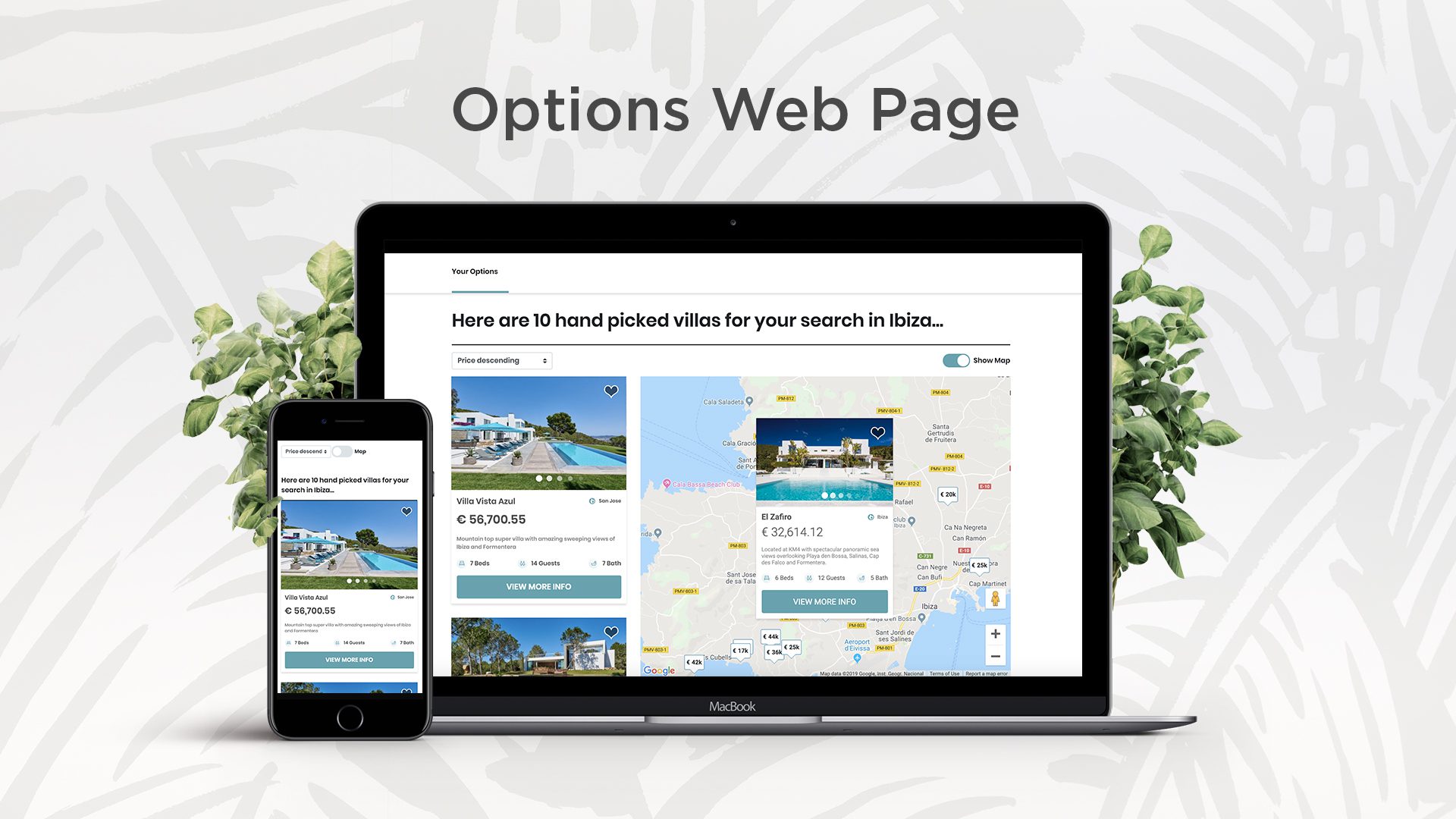 In line with our new property web page brochures, we have also created a new and improved way to share property options with your clients. Now, when you select the properties you want to send to your clients, you have two options, the classic 'list view' or the new enquiry options web page, example available here.
When you choose to send property options using our new Options Web Page, a dedicated page showing the properties you have chosen for your client is generated. This will provide a visual list for the client to view, making it much more interactive and easier for the user to evaluate their options. We have also included a map view making it much easier to view the locations of your shortlisted properties. Your clients can then click through to the individual property web pages to see the full information on each villa.
Your valued opinion
Current feedback on these most recent updates has been nothing but positive and we are already seeing improved results. However, as always your opinions are extremely valuable to us so please do let us know your thoughts on any changes we have made so far… or even if you have any suggestions on how we can further improve our system. We would love to hear from you!
Future developments
At Privadia we are always striving to provide innovative, slick and simple ways for you to search, find and present villa options to your clients. In addition to the new features outlined above we have a number of new developments in the pipeline, so please keep your eyes peeled for even more updates coming soon.
Here's to a great start to 2019!
Team Privadia
Sign up as an Agency Partner
With our simple set up process, you can have instant access to 200+ luxury holiday rental properties in Ibiza. Please contact daniel@privadia.com today for more information.