Rate Reductions
Here at Privadia we are most recognised for our extensive, high-end luxury villa portfolio, and with an average booking value of approximately €20,000, you wouldn't expect 'rate reductions' to be a key part of our offering. However, you may be surprised to learn that even some of the most expensive villas in Europe can occasionally offer rate reductions.
Rate reductions can arise for a variety of reasons. It could be down to a last-minute cancellation, remaining gaps in the calendar, or maybe the owner is willing to accept a reduced price for early bird bookings. Also, due to the challenges faced by Coronavirus and through no fault of the owners, cancellation rates are higher than usual, thus the market is far more fluid than previous seasons.
In short, 2020 presents itself with a good handful of extraordinary deals and rate reductions so we felt this would be a good time to explain some key features of our Agency Portal and how you can make the best use of these tools in order to find great deals for you and your clients.
How do I view rate reductions?
To view rate reductions, simply Login to our Agency Portal and perform your search as normal. Then once the results appear click on the 'only show reduced villas' filter highlighted at the top of the page in orange. This option filters out all villas that are offering rate reductions for the dates you have chosen.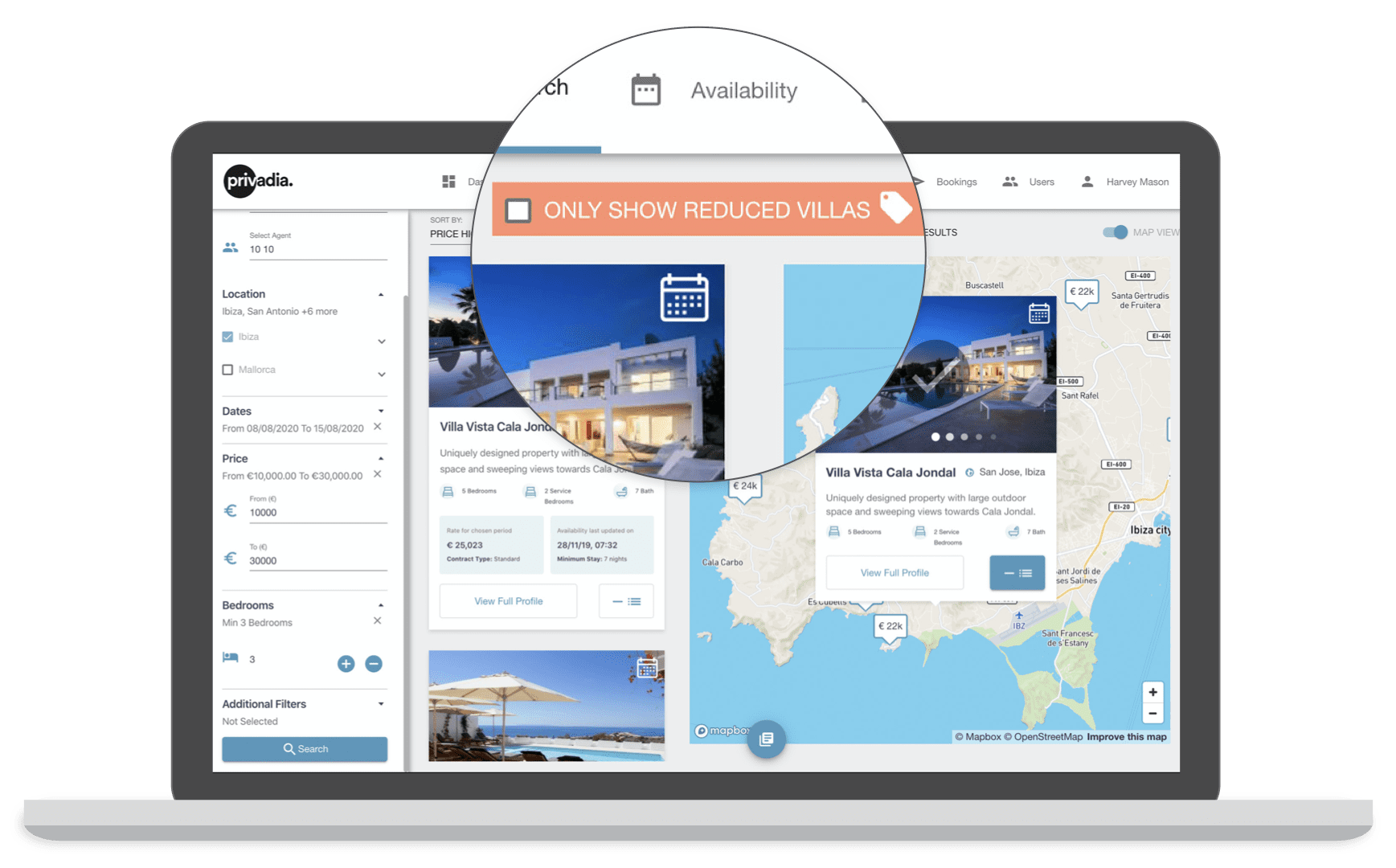 Alternatively, you can view the villas that are offering rate reductions in and amongst all other properties available. Just lookout for the "Reduced Rate' ribbon on the individual villa listings.
Map View
Don't forget! You can always make use of our map view functionality which will present the reduced villas, pinpointed on the map in a clear and easy to view format (as pictured).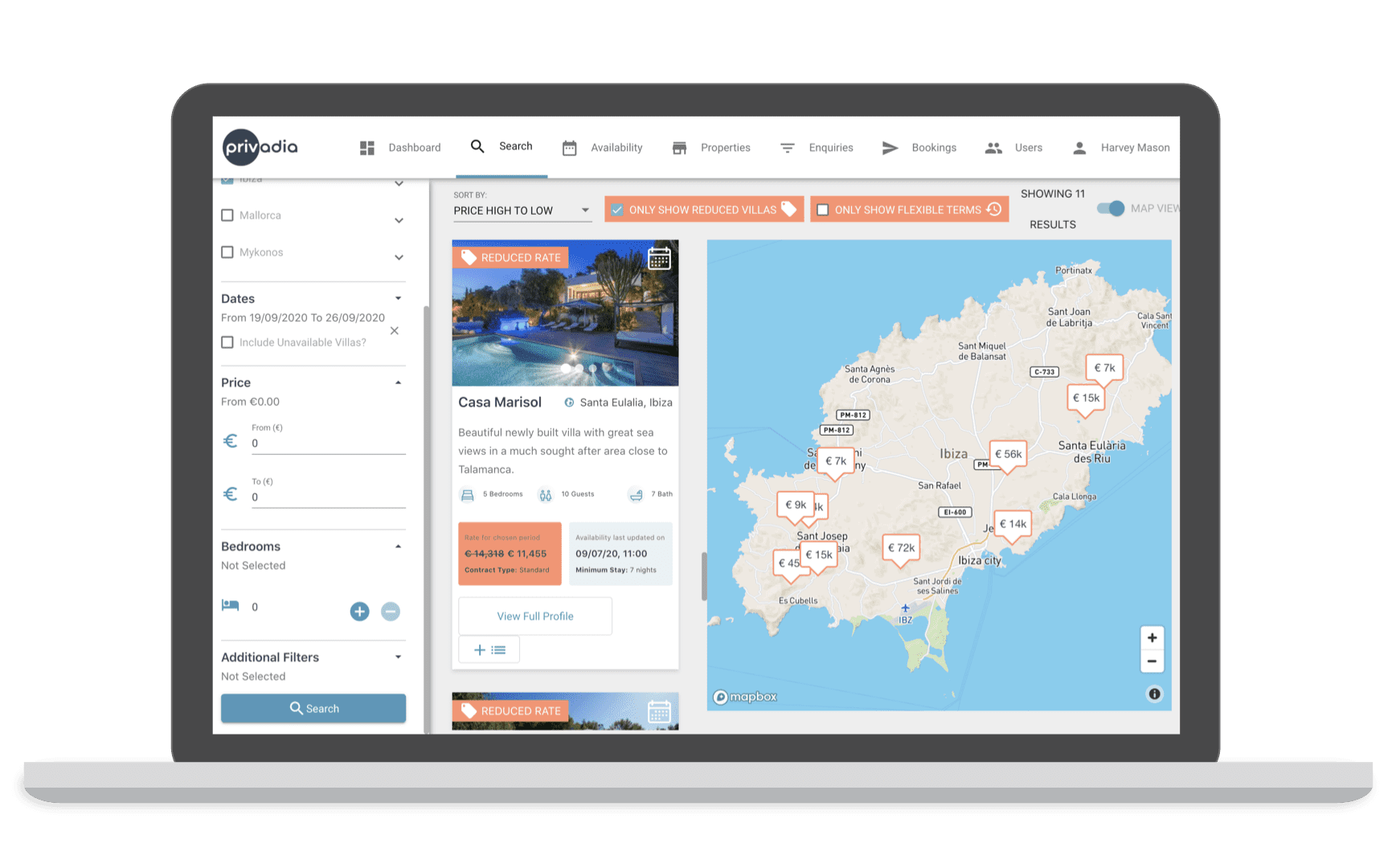 We automatically calculate your commission
Calculating your commission and including it in the rates provided is an out-the-box feature of Privadia's Agency Portal, but this feature also works great with rate reductions. Although the rates are reduced, we still calculate your client's price and ensure your standard commission rate is also included. No calculators required!
What sort of reductions can I expect?
Rate reductions offer very appealing deals and although typical reductions range between 10% – 30%, some owners have been known to offer up to 50% off their list price. In some cases, we have been able to save our clients up to £40,000 off their villa rental.
Please note that we are updating our system on a daily basis, so always jump in and check to ensure you don't miss out!
To summarise
In summary, Privadia's rate reduction feature offers numerous benefits:
A quick and easy way to search and find rate reductions

Filter to only show rate reductions

See reductions easily using the map view

Rates and commissions are automatically calculated

Easily display rate reductions to your clients using our white label marketing material

Compare the new price to the previous price, showing the total saving

Search rate reductions on the move with our mobile application

Even further reductions available for longer stay bookings

Rate reductions added daily

Price match guarantee
Looking for current rate reductions?
There are a number of incredible reductions available at the moment throughout August and September. Simply login to our Agency Portal and start your search now.
If you are not currently signed up as a Privadia travel partner and wish to gain access to our daily rate reductions, please click here to find out more and to apply as a new partner!